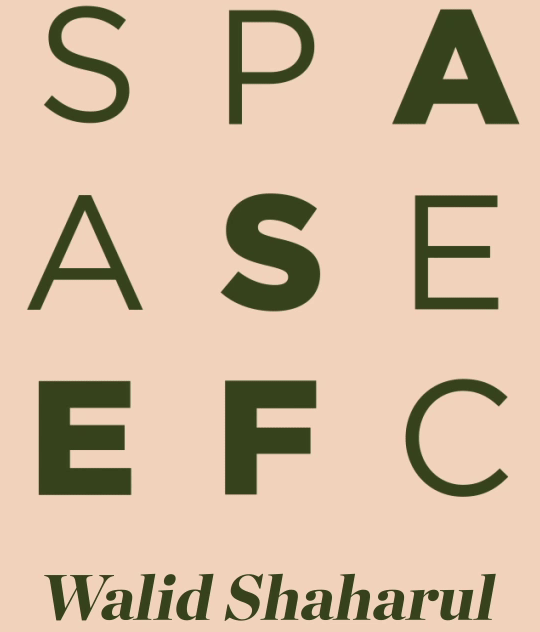 Shaharul's paintings at once attract and confront viewers with their distinctive aesthetics of familiarity, perversity, and opposition. Often working with oil paints, Shaharul combines subconscious impulses with scenes of everyday life, resulting in what he describes as "visual contradictions." The title of the show "SAFE SPACE," is in itself a contradiction. Shaharul's paintings that portray his friends and loved ones in brightly-colored rooms and comfortable settings are not what they appear to be. The figures, some standing and some supine, have distorted facial features to evoke a sense of emotional isolation or imponderable problem. The compositional mystique is only enhanced by the swaths of heavy color-blocking that entraps these figures as they seemingly undergo subtle social shifts that accompany life in a period of crisis.

A noticeable chasm that divides the subjects from their surroundings is Shaharul's selection of bright background colors. "The colors I choose are bright and attractive. Bright colors, in some sense, are meant to bring positive and joyful feelings. But there is a sense of distress in the compositions because the walls, the floors and ceiling are all one color. So instead of those joyful feelings, it feels overwhelming, torturing and exhaustive. A not so safe space," says Shaharul.

While these paintings are marked by Shaharul's restrained nature and lurid sense of the absurd, they also attest his abilities in capturing the intricacies of the human form in oil paint. The artist toys with the intimacy and vulnerability of his subjects and their appearance through surrealist variations on mundane routines such as sitting, working, running, swimming and sleeping. He brings these attractively unusual images to life by digging deep into his mind to translate prosaic moments into well-articulated profundities.
Portrait of Nick, 2020
36 x 36 in
Oil on Canvas
SOLD
Person running (foreground),
Person stretching (background), 2020
36 x 48 in
Oil on Canvas
SOLD
Two sharks in containment, 2020
48 x 48 in
Oil on Canvas
SOLD
Portraits of grandparents (Malaysia), 2020
36 x 48 in
Oil on Canvas
$800 USD
+ add to cart
Portrait of Denise waking up from a nightmare, 2020
16 x 20 in
Oil on Canvas
$700 USD
+ add to cart
Person in office space, 2020
36 x 48 in
Oil on Canvas
$800 USD
+ add to cart
Portrait of Garman with two reflections, 2020
36 x 48 in
Oil on Canvas
SOLD
Person coming out of the shower (foreground),
person crawling (background), 2019
36 x 48 in
Oil on Canvas
SOLD Portrait of Caleb and Caitlin, 2019
36 x 48 in
Oil on Canvas
SOLD
Hotel lobby with two figures, 2019
36 x 24 in
Oil on Canvas
SOLD
Untitled, 2020
18 x 24 in
Oil on Canvas
SOLD