BIO

Walid Shaharul is a self-taught painter from Queens, New York who creates figurative works featuring friends, family, and imaginary subjects. He warps interior and exterior scenes while incorporating geometric and surreal elements into his compositions to evoke a range of moods. His subjects don distorted faces, oftentimes in alienation or adjacent to other characters that harness contrasting personalities.


Through these pieces, he explores "visual contradictions" by showing fragmented subjects undergoing emotional struggles in mysterious yet inviting settings. The use of distorted facial features and heavy color-blocking adds to the sense of emotional isolation and social change in a time of crisis.



THROUGH THE LOOKING GLASS

Walid Shaharul is the focus of a new exhibition in Nepenthes New York. Entitled "Through the Looking Glass" the upcoming presentation will feature six new paintings that portray unique figurations with nuances on the duality of reflections.


The artist has inserted varying forms of reflections in his practice for the past three years encompassing mirrors, windows and bodies of water that attain reflective qualities. Accompanying the physicality of actual reflections, Shaharul also navigates the realm of conceptual reflections such as pitting subjects against each other in a work that have distinct features, but imbue a quality of likeness in the way they are painted or interact. The artist tends to paint similar subjects in contrast with one another that evolve over time. Surrealist landscapes are also included in this body of work that are a reflection of the artist's mind.


Altogether, Shaharul's works maintain a consistent interplay between distorted subjects and moody scenes in his pieces that are punctuated by gestural visualizations that offer differing points of conversation for viewers.


roosi x Nepenthes NY: Walid Shaharul Through the Looking Glass Tee


Observation, 2022

36" x 36"

Oil on canvas


SOLD
Landscape 1, 2022

36" x 36"

Oil on canvas


SOLD

Manny & Josh, 2023

24" x 20"

Oil on canvas


$3000 USD



Self Portrait (orange), 2023

24" x 20"

Oil on canvas


$4000 USD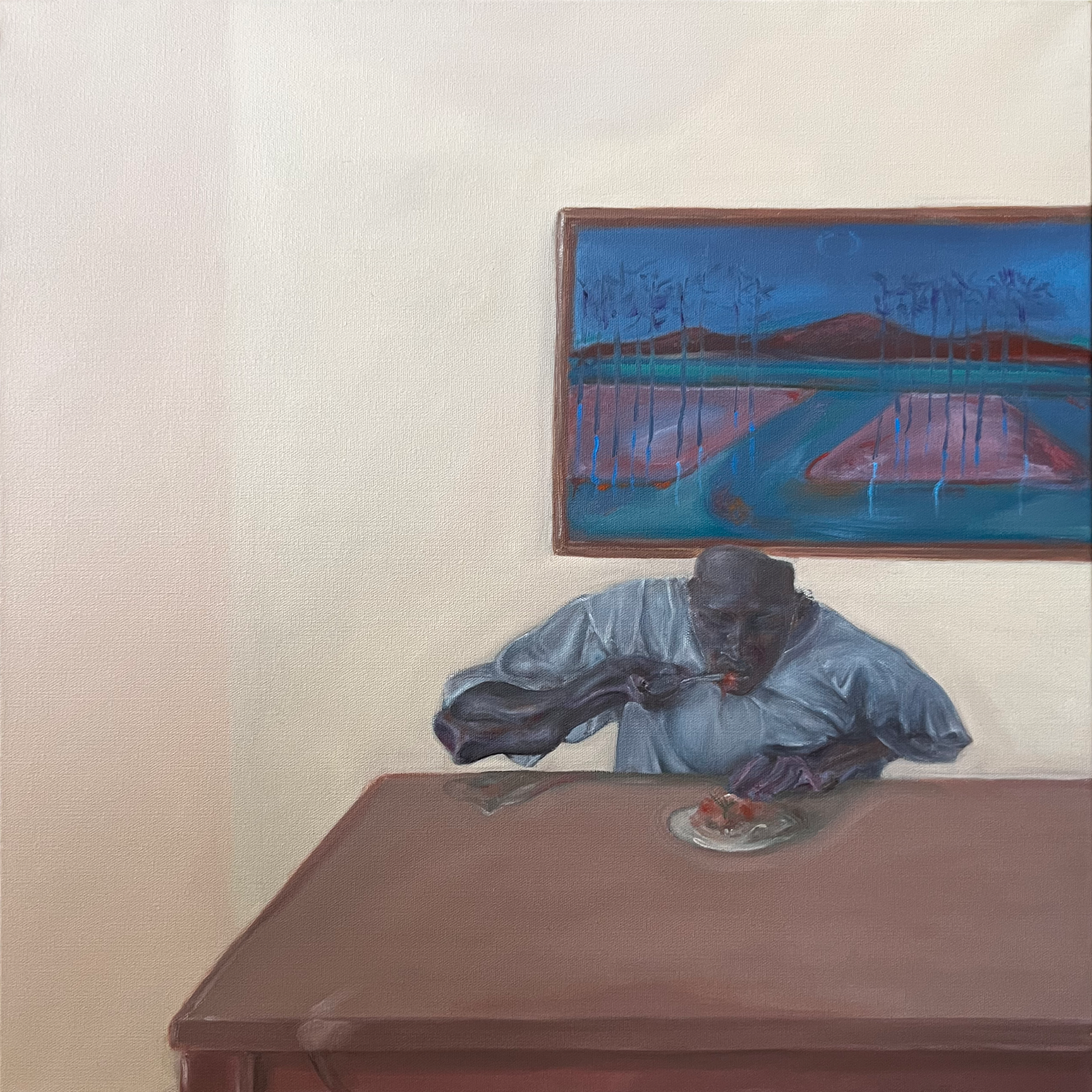 Figure Eating, 2023

24" x 24"

Oil on canvas


$3500 USD



Figure Stretching, 2023

30" x 24"

Oil on canvas


SOLD
Mosque Interior 1, 2022

72" x 48"

Oil on canvas


NOT FOR SALE
Keith, 2022

48" x 48"

Oil on canvas


SOLD
Matt, 2022

18" x 24"

Oil on canvas


SOLD